Trump and Climate Catastrophe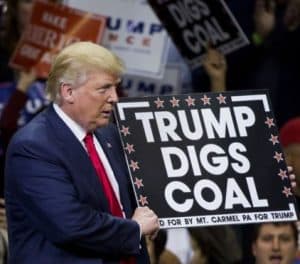 Photo Credit: BBC, Getty Images.
John Bellamy Foster
is the editor of
MR
and a professor of sociology at the University of Oregon. He is coauthor, with Paul Burkett, of
Marx and the Earth
(Haymarket, 2017).
This very expensive GLOBAL WARMING bullshit has got to stop. Our planet is freezing, record low temps, and our GW scientists are stuck in ice.
—Donald Trump, January 2, 20141
The alarm bells are ringing. The climate-change denialism of the Trump administration, coupled with its goal of maximizing fossil-fuel extraction and consumption at all costs, constitutes, in the words of Noam Chomsky, "almost a death knell for the human species." As noted climatologist Michael E. Mann has declared, "I fear that this may be game over for the climate."2
The effects of the failure to mitigate global warming will not of course come all at once, and will not affect all regions and populations equally. But just a few years of inaction in the immediate future could lock in dangerous climate change that would be irreversible for the next ten thousand years.3 It is feared that once the climatic point of no return—usually seen as a 2°C increase in global average temperatures—is reached, positive-feedback mechanisms will set in, accelerating warming trends and leading, in the words of James Hansen, former director of NASA's Goddard Institute for Space Studies and the foremost U.S. climate scientist, to "a dynamic situation that is out of [human] control," propelling the world toward the 4°C (or even higher) future that is thought by scientists to portend the end of civilization, in the sense of organized human society.4